Zys Silicon Nitride (Si3N4) Ceramic Balls 8.731mm for Bearings with High Load and High Speed
Product Description
ZYS Silicon Nitride (Si3N4) Ceramic Balls 8.731mm for bearings with high load and high speed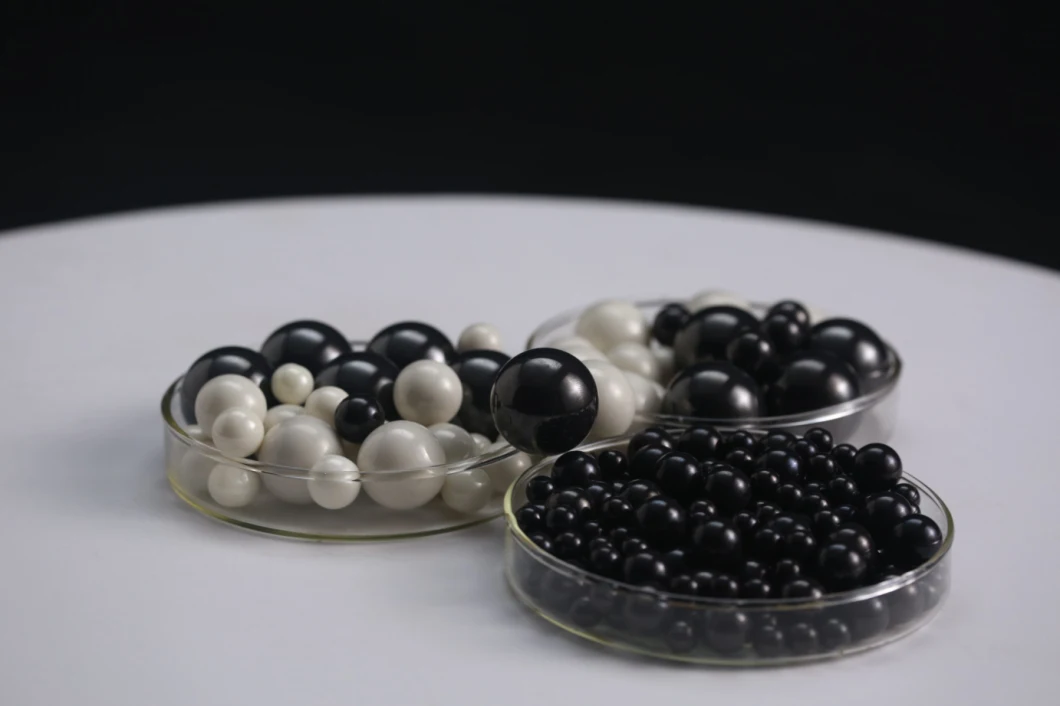 Si3N4 is a new kind of bearing material with several good features, it possesses high temperature resistance, corrosion resistance, insulation, non-magnetism, high strength, low density and other features. In the application of bearing, it possesses low friction, low temperature rise, high rigidity, low centrifugal force and other features. It can implement high speed, high precision, high temperature, high rigidity, corrosion resistance and other good features.
The high precision and high performance silicon nitride bearing ball is manufactured by  spray-drying process, near-net-shape, cold isotatic pressing, GPS-HIP combined sintering, compounded abrasive lapping process effectively. The precision grade of it is G5, the materials class is I.
ZYS Si3N4 ceramic ball material grades
                       Class
Item
Materials class
I
II
III
Property
Bending strengthσ3.40(Mpa)
900
800
600
Crushing load ratio(%)
35
35
30
Hardness(HV10)
1580
1480
1380
Fracture toughness(Mpa.m1/2)
6.0
5.0
5.0
The limit does of fiber structure
Pore size(μm)
10
10
25
Porosity(%)
0.02
0.06
0.06
Crystal phase(μm)
10
10
25
The second ceramic phase(μm)
25
25
25
The maximum of inclusion of transverse section every
Square centimeter
Range 200(μm)
0
0
1
Range 100~200(μm)
0
1
2
Range 50~100(μm)
1
2
4
Range 20~50(μm)
4
8
16
Examples of Si3N4 ceramic ball's common applications
 
G3
G5
G10 G16
G20 G28 G40
Class I
High speed power equipment
Space mechanism
Aircraft instrument
Liquid oxygen pump
Active shaft bearing
The key parts of aerospace equipment
 
Class II
Molecular turbo-pump
High precision star bearing
Vacuum equipment, high speed instrument, mechanical devices, high performance and the most advanced contacting spherical propeller
Motor, medium-low precision star bearing
Testing bearing ball, separating bearing ball
Class III
 
 
Sport, entertainment, food processing
Mechanical devices
ZYS Si3N4 ceramic ball specifications
The nominal diameter of bearing ball
The nominal diameter of bearing ball
The nominal diameter of bearing ball
mm
in
mm
in
mm
in
 
1/32
5
 
8.731
11/32
0.8
 
5.5
 
9.525
3/8
1
 
5.556
7/32
11.112
7/16
1.588
1/16
5.953
15/64
12.303
31/64
2
 
6
 
12.7
1/2
2.381
3/32
6.35
1/4
13.494
17/32
2.5
 
6.5
 
14.288
9/16
3
 
6.747
17/64
15.081
19/32
3.969
5/32
7
 
15.875
5/8
4
 
7.144
9/32
19.05
3/4
4.5
 
7.5
 
25.4
1
4.762
3/16
7.938
5/16
31.75
1 1/4
Note:  The special specification can be manufactured after negotiating
ZYS Ceramic ball workshop:

 ZYS Glory   Top 200 most promising companies of China in ForbesTop 500 in China Machinery IndustryExcellent Enterprise with China Well-know TrademarkHigh-performance Bearings LaboratoryState Quality Supervision and Testing Center for BearingISO/TC4 China SecretariatThe Research Center for High-speed Precision Bearing Engineering in Machinery Industry
 ZYS Quality assurance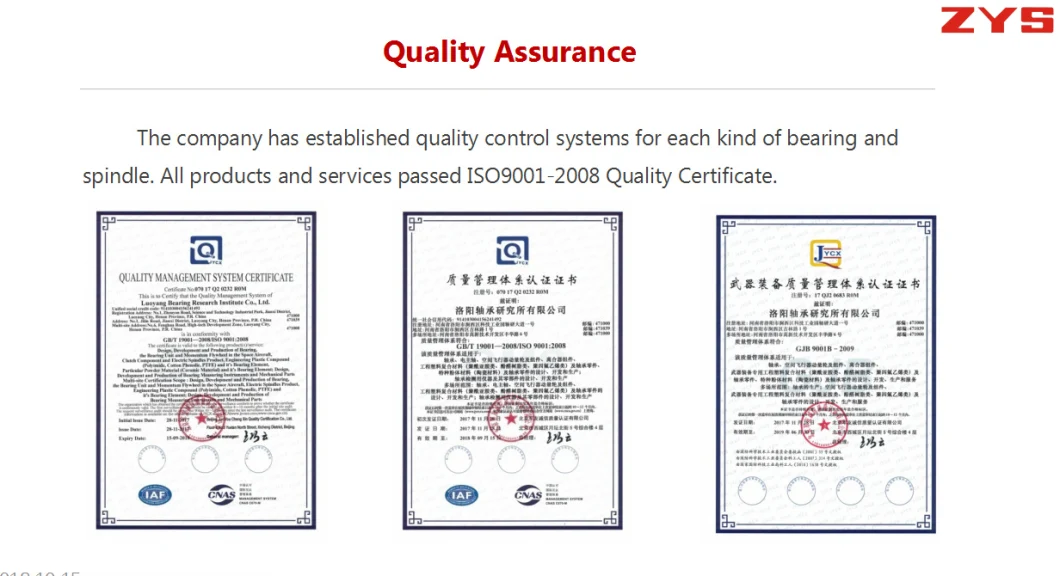 ZYS bearing products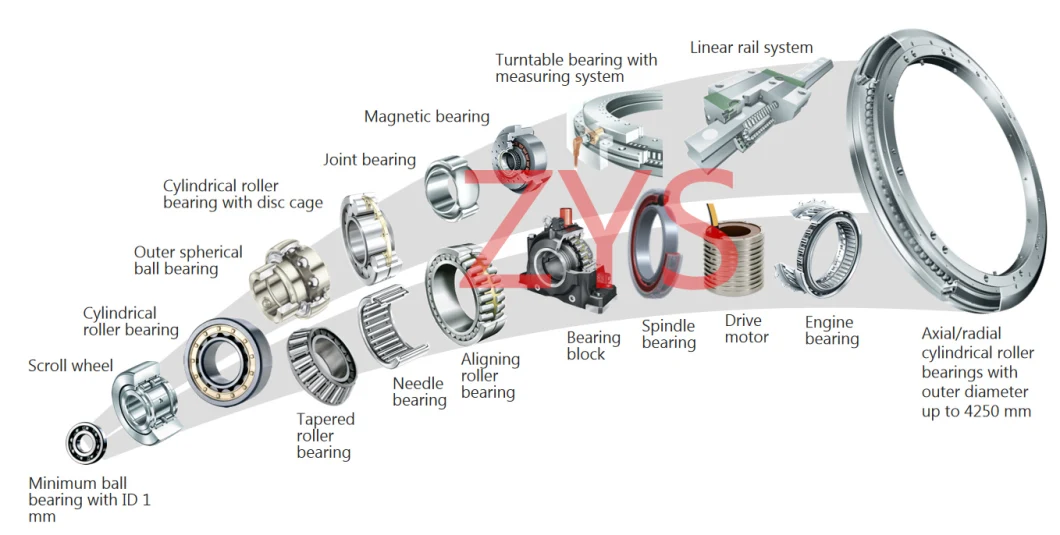 ......      We would like to and ready to do business with any company from all over the world. If you are interested in any of ZYS products, please don't hesitate to contact with us, we would like to give you ZYS best quality service any day any time !   Contact us  Address: No.1 Jilin Road, Luoyang City, Henan, Province, China.Zip Code:471039 
 Website:           Contact us if you need more details on Si3n4 Ceramic Ball. We are ready to answer your questions on packaging, logistics, certification or any other aspects about Bearing、Ball Bearing. If these products fail to match your need, please contact us and we would like to provide relevant information.
Product Categories : ZYS bearing balls and bearing cages